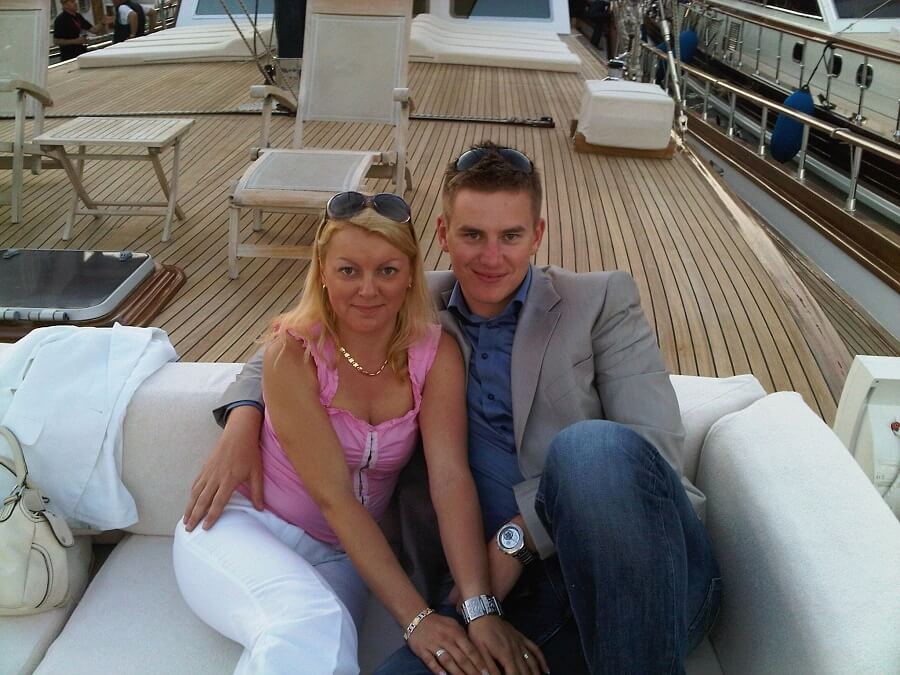 Our Story, and the Story of Goolets (so far…)
The Birth of an Idea
Mitja and Alenka both came from backgrounds working in travel and hospitality, and were recognised as diligent professionals in their fields.
In 2005, after a challenging summer season, they received an invitation to join a yacht charter holiday in Croatia, and learn about a special type of vessel - gulets - which were growing in popularity at that time.
After seven days onboard, they realised two things:
This type of holiday is considered to be exceptional value for money and an unparalleled vacation experience. They completely fell in love with gulets.
They recognized that the overall satisfaction of such holidays could be greatly improved if the crew had a better understanding of what was really important to the guests. The crew on that charter did their best, but unfortunately were poorly prepared, and followed their own plan instead of customizing and aligning the experience to the guests' wishes.
We immediately saw the importance of a fully briefed, knowledgeable crew on every yacht charter.
Ever since, we have made sure that we take sufficient time to learn and properly understand what is truly important for the client, then communicate that clearly to the crew.
Growing Pains
It's one thing to have a great idea and a great product; it's something completely different to have that idea actually be realized.
Alenka and Mitja had zero financing.
There were no backing investors.
They had little savings in the bank.
All they had was a genuine passion for yachting, a great idea, lots of persistence and determination, a desire to share the yachting experience with others, and a mutual decision that they wouldn't give up on - no matter what!
They did not come from Silicon Valley backgrounds. At that point, they did not have an MBA or business/management qualifications, and they lived in a country with 42 km of coastline yet no affiliation to yachting or anything similar.
It took them almost two years to secure their first booking, and two more years after that to employ their first member of staff. While Mitja went all-in to try to make the company succeed, Alenka worked at a second job in order to generate some financial security.
Their company, Goolets, started from a zero base, and grew with a lot of sweat, tears, hard work, and persistence - all of which are still part of the company.
Goolets is not run as a "business" per se. Rather, Goolets is like a fourth child of Alenka and Mitja (who also made a family of three children along the way); and everyone who works there treats it as such.
Last five years
Written by Mitja Mirtič
In the last five years, Goolets has succeeded as a business.
Some of our most proud achievements:
Growth of the Team
By 2020, the company had grown to 14 full-time employees. However, the main growth of the team didn't happen in numbers - it was due to the all-round excellent mindsets of the people working with us. Alenka and I had determined the kind of people we wanted to surround ourselves with, and what our expectations were; and we started to live by our core values.
And with this, our life became so good. We work on many demanding and exciting projects with top-quality, passionate people - which is what inspires me to wake up early every morning and head into work with great enthusiasm.
From Gulets to Yachts
As the name of the company communicates, initially we were specialists in gulet charters. Just as the company AirBNB is no longer just about "Air Beds and Breakfast", so too have we expanded our portfolio from only gulets, to include crewed yachts of all sizes, from all over the world.
We have learned everything regarding customer support from our years working as gulet charter experts, and we have applied the same exacting detailed procedures to sailing and motor yacht charters. And, to date, it has all worked out perfectly.
New Page - New Brand
We knew that what we were doing at Goolets was of the highest quality, so we wanted to upgrade how we presented ourselves and our services to the world. We knew our "baby" was beautiful - we just needed to buy her some new clothes. So we built a brand new website, created a new company logo, and expanded the company mindset to include a new dimension.
Largest Yachting Event - We booked a castle!
We launched our business in Croatia, and we grew thanks to the help and support of many wonderful Croatian gulet owners. They assisted us every step of the way, for which we remain truly grateful. So after 15 successful years in business, we decided to thank and honor them at a special event.
We booked an incredible castle and hosted a private party, inviting 80+ distinguished guests from the yachting world in Croatia. It was a great success and a good reminder of what can be achieved when you believe in what you are doing, while consistently working hard on achieving your goals.
New Projects
In just the last year (despite the ongoing pandemic), we started working on several projects:
Yacht Building - we are currently building 45-meter luxury yachts for charter management and investment purposes
Charter Management Services
Central Agency for 8 Yachts
Implemented New Customer Relationship Management Software
Rolled-out our New Marketing Strategy
Membership of MYBA - the largest and best-recognised yachting association in the world
Expanded our Charter Offering - to include several new destinations
We are always in search of new opportunities, however we always ask ourselves three questions before we start any project:
How will this benefit our customers?
Will we have fun doing this project?
Is it within our capabilities? Will we be ok even if we fail?
If we have a positive answer to all three questions, we proceed. This way, we always keep the customer as our No.1 priority. We keep our main mantra, that life has to be good. And we sleep well, knowing our company, Goolets, will be fine no matter what happens.
A little bit about Alenka and Mitja
Written by Alenka Mirtič

Some people say we are a dream team. I agree. We could not be more different in the way we think and what our characters are like. But we somehow made it work that our differences do not pull us apart - they complement us. Our company, Goolets, is living proof of that.
Mitja is a creative genius, always full of ideas, projects and enthusiasm and his energy is spread throughout the entire company.
I make sure things get done and high standards are always being followed.
Together we make sure the company grows and expands in a healthy, sustainable, and high-quality way.
Beside Goolets, we are also proud parents of three beautiful children, and together we do our best to make life good for them as well. In the end, everything we do in our life is for our children.
Besides leading a business, our passions are traveling, sports, learning, growing, and helping other people to make their life good as well. Either by organizing their yachting holidays, or by leading and supporting them as valued co-workers in the company.